Ulysseus scientists meet in Nice to address existing challenges in the field of ageing and wellbeing
The event takes place on 4-6 October in Université Côte d'Azur and is hosted by the Innovation Hub of Ageing and Wellbeing of Ulysseus.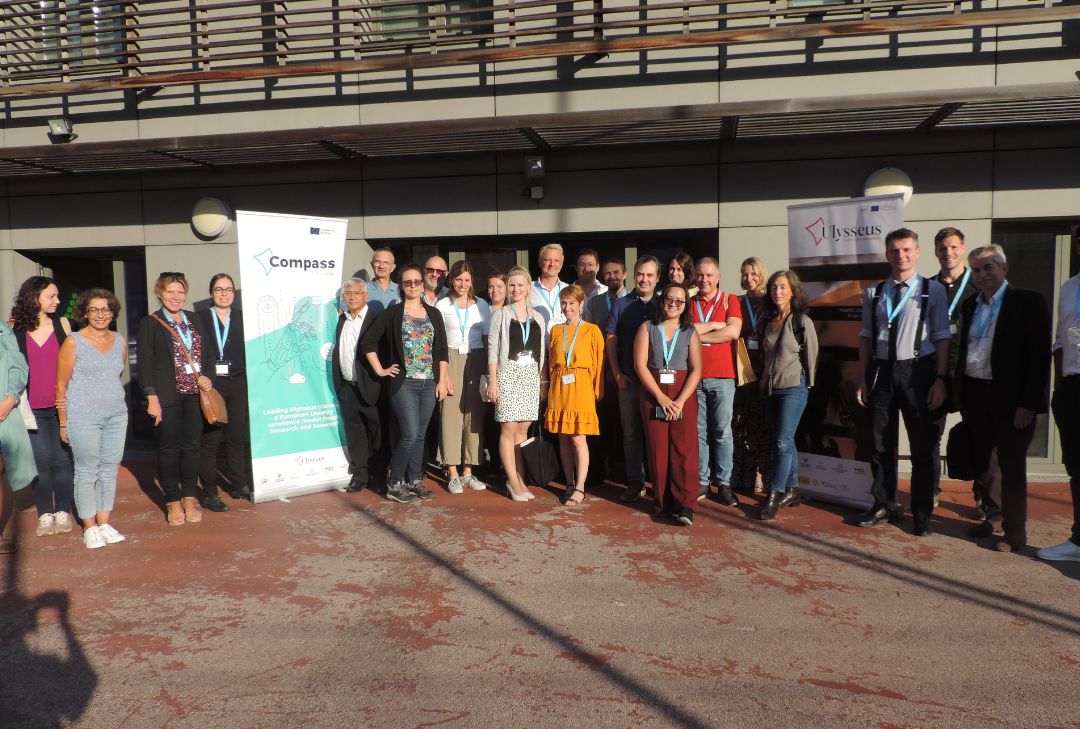 Over thirty researchers from the six partner universities of the Ulysseus European University (University of Seville, Spain; University of Genoa, Italy; Université Côte d'Azur, France; the Technical University of Košice, Slovakia; MCI | The Entrepreneurial School, Austria, and  Haaga-Helia University of Applied Sciences, Finland) are attending the COMPASS Researchers' Days in Nice.
Higher life expectancy and low birth rates in EU nations are pushing Europe to a challenging event horizon. The reduced working population will be insufficient to support the increasing ageing one. All aspects of social care spanning all demographics will be impacted, but specifically pensions, healthcare, and long-term care will all become unsustainable in the current paradigm.
"Our current methodology of caring for the ageing population, and the wellbeing of all, will not suffice when we reach this event horizon. We need to innovate new mechanisms to, not only sustain high standards of care, but to improve it too. This is the first of many meetings to come whereby we will bring together the critical mass required to develop, research, and innovate solutions for the betterment of all", stated Dr John Rowell, Ulysseus Innovation Hub Officer – Ageing and Wellbeing.
Horizon Europe calls
At the Researchers' Days in Nice, a group of experts from the six universities of the Ulysseus alliance are working together to leverage the full scope of expertise within the consortium from basic- to outcomes- research, and across thematic, in order to develop concepts into sustainable and innovative systemic solution.
Their discussions will be orientated to upcoming Horizon Europe calls, with the ambition of formulating competitive consortia to address existing challenges in the field of Ageing and Wellbeing. They have a clear goal in mind, to focus research into better understanding the biological, medical, economical and societal processes that underlay the problem, so that realistic, sustainable and innovative solutions can be tested, validated and implemented. Their research will focus on improving the efficiency of health care for the elderly; expanding the number of healthy life years and wellbeing and facilitating active ageing.
Researchers' events
The COMPASS Researchers' Days in Nice is part of the calendar of activities of COMPASS and one of the five brokerage events designed for researchers of the Ulysseus alliance. The purpose of these events is to facilitate face-to-face meetings and workshops among peers to explore potential research opportunities within the same fields of expertise.
Previously, Ulysseus held similar events such as the Research Workshop within the first Ulysseus Summit celebrated back in April in the Technical University of Košice; the Researchers' Days in Seville which happened in June, the Research Workshop in Innsbruck and the Researchers' Days in Helsinki, both of them took place in September.
About COMPASS
COMPASS: Leading Ulysseus to become a European University excellence model through Research and Innovation is a Horizon 2020 project and the flagship for Ulysseus R&I agenda and strategy. This action, which is part of the Science with and for Society programme of Horizon 2020 (SwafS), will facilitate Ulysseus' transformation process towards becoming a European university through a common R&I strategy that will in turn consolidate its Innovation Ecosystem.