Entre Camp Helsinki:  Providing solutions for a healthier and greener city
For five days, 38 Ulysseus students had the chance to immerse themselves in the second edition of Entrecamp, an innovative immersive blended intensive program that combines a range of activities designed to enhance teamwork, problem-solving and entrepreneurial skills enhanced with design thinking methods. This activity is hosted by Haaga-Helia University of Applied Sciences.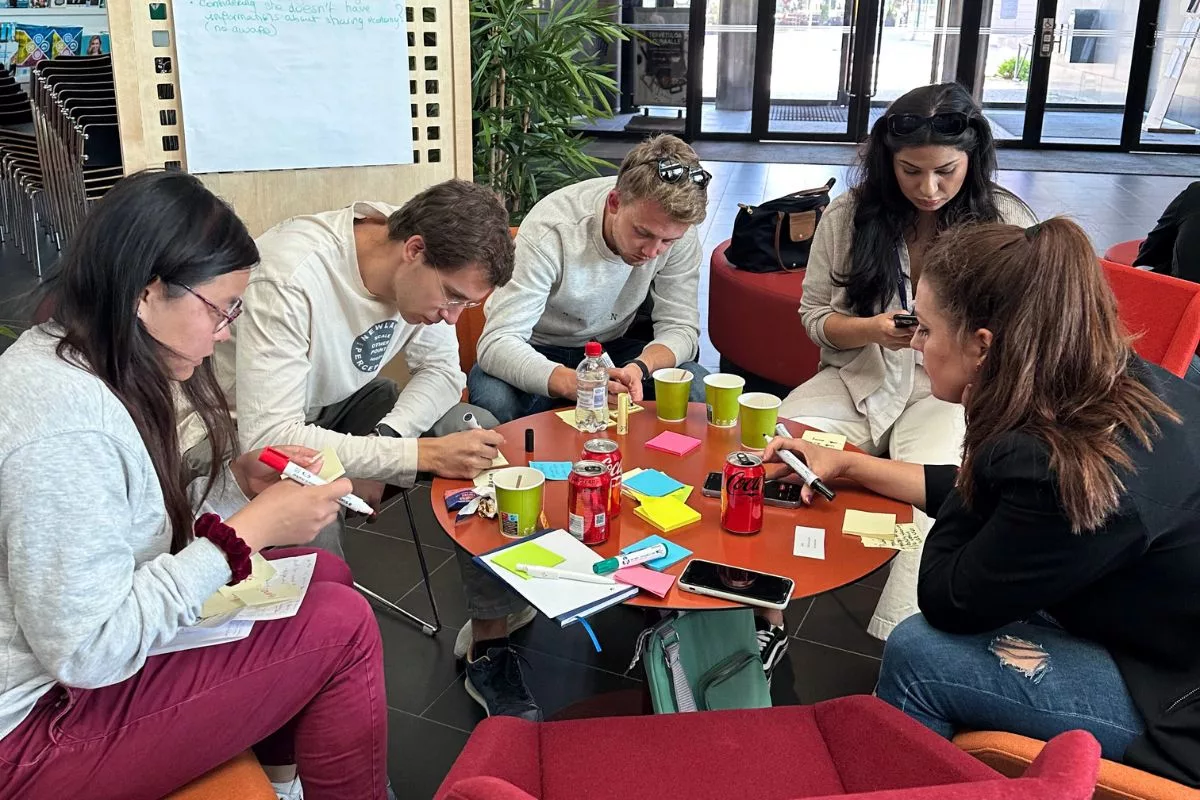 In today's world of global interconnections, it is crucial to provide university students with opportunities to explore different cultures and promote international cooperation. Recognizing this need, Entre Camp Helsinki concept has been created by Haaga-Helia University of Applied Sciences in co-creation with Ulysseus partner universities. This innovative program brought together, for the second year in a row, students with multidisciplinary backgrounds from six European countries, providing them with a transformative experience that transcends academic and cultural boundaries.
A Week of Inspiration and Exploration
Entre Camp Helsinki is a dynamic and immersive blended intensive program that combines a range of activities designed to enhance teamwork, problem-solving and entrepreneurial skills enhanced with design thinking methods.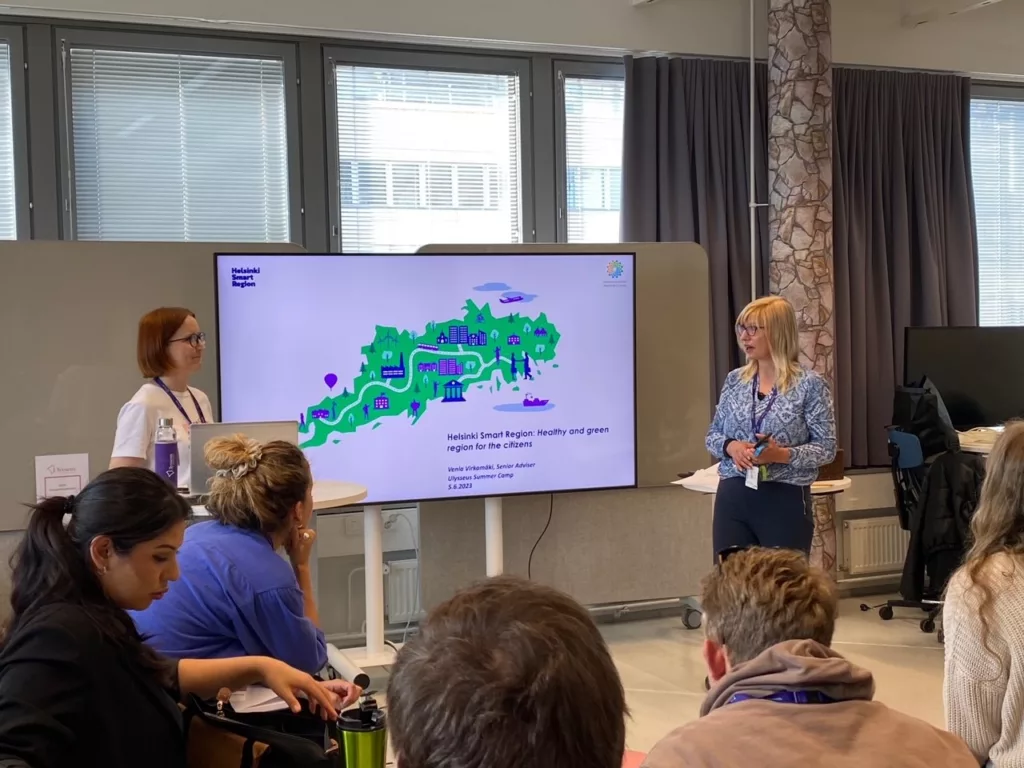 The intensive week started with building strong foundations. The 38 students were divided in six multicultural teams and the work started with team-building exercises aiming at forging connections and cultivating a collaborative mindset. Ulysseus associated partner Helsinki Uusimaa Regional Council presented by Senior Advisor Venla Virkamäki shared this year's challenge to the students: Healthy and Green City for the Citizens – Resource-wise Helsinki-Uusimaa: Aiming for the well-functioning everyday life and wellbeing of citizens, nature, and businesses."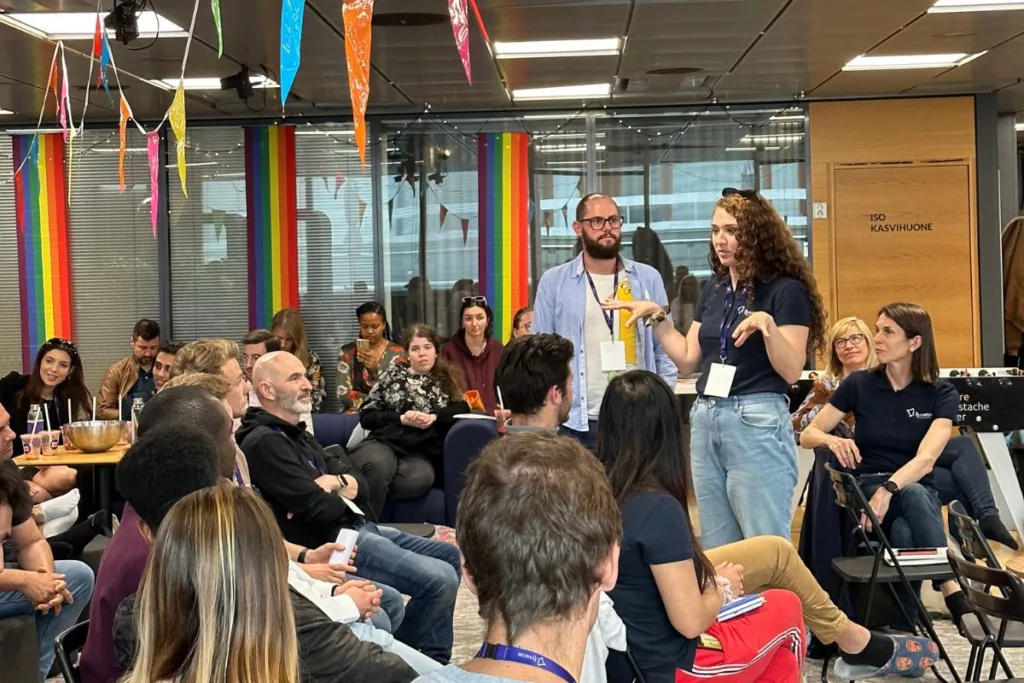 This overarching theme is further divided into three sub-themes:
Healthy City – Promoting a healthy lifestyle
Urban Mobility Solutions
Sharing Economy in Urban Areas
Later a mini-workshop conducted by another Ulysseus Associated Partner XES Helsinki equipped the participants with essential tools and techniques, setting the stage for a productive week ahead. To immerse students in the local culture, a Helsinki city tour was organized, providing insights into the city's rich history and vibrant atmosphere.
The second day focused on equipping students with the necessary tools and tasks for their team work in order to solve the challenges presented. Engaging in team activities, participants deepen their understanding of the challenges through interviews with local residents of Helsinki. A visit to Gofore, an agile digital company providing solutions for the digital transfer through service design methods, offers valuable insights into the professional world. The evening provides a well-deserved break, as students unwind on Isosaari Island, enjoying the rejuvenating sauna and invigorating swimming sessions in the still chilly Baltic Sea.
Wednesday embraced the entrepreneurial spirit as Entre Camp students spent the day at the Haaga-Helia Porvoo Campus. Ideation sessions fuelled creativity and encourage innovative thinking, while an entrepreneurship story from Ansa Production provided real-world inspiration. The exploration continued with a captivating tour of the historic Old Town, immersing students in the local culture and heritage.
Thursday nurtured the startup mentality – the students learned valuable insights from Ravi Kumar sharing his startup experiences diving into the challenges and triumphs of entrepreneurial ventures. Students engaged in prototype learning, gaining practical experience in designing and refining their projects. Collaborative team work and a panel discussion fostered a dynamic learning environment, encouraging the exchange of ideas and perspectives.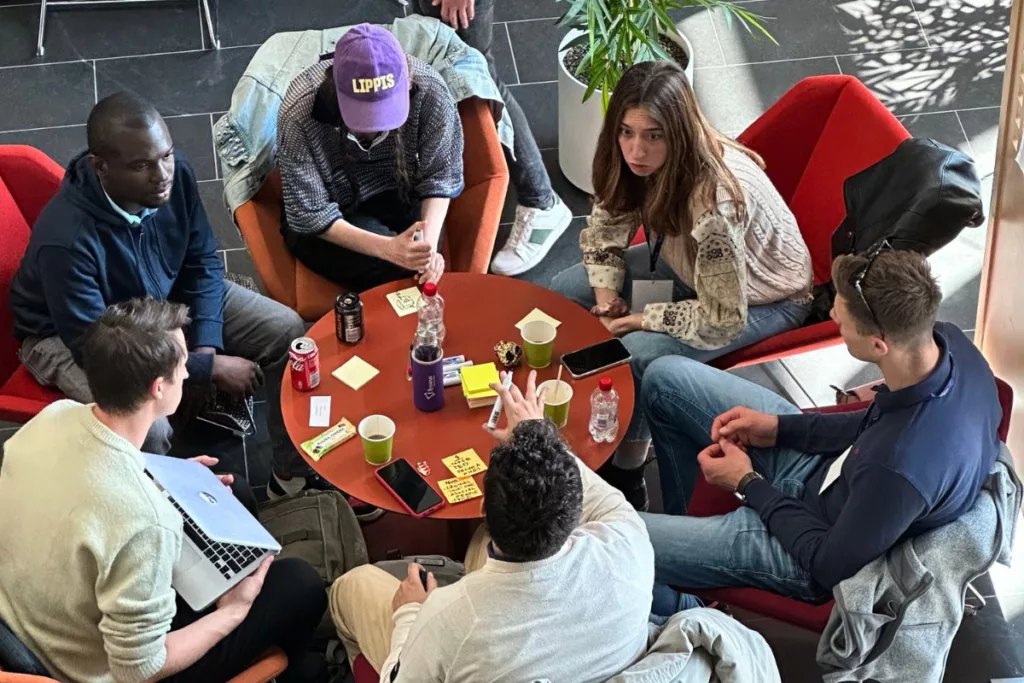 Friday brought in the culmination and celebrations. The final day morning was dedicated to teamwork, as students finalized their presentations. Each team presented their work before a distinguished panel of commissioners and other experts, showcasing the skills and knowledge acquired throughout the week.
The teams presented several creative and innovative solutions for the challenges given, such as joint platform for all shared economy solutions available in the Helsinki area, innovative solutions for foodwaste and local buses dedicated to families with children.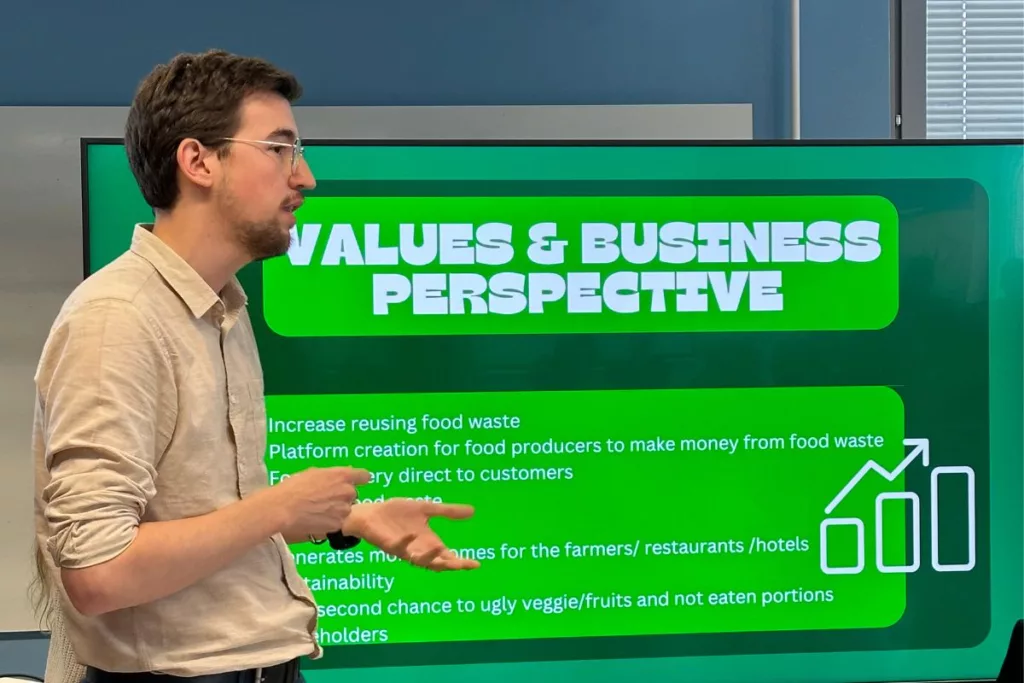 The program concluded with valuable feedback and a thought-provoking panel discussion. Finally, the winners are announced, celebrating outstanding accomplishments and contributions. The winner was carefully chosen by the coaches and the jury of the camp – the award for the best idea went to the team who shared their solution about a local transport bus service dedicated to families with children.
The learning journey does not end in Helsinki. The students will compile a virtual learning portfolio during the next month which will be then assessed by the 12 coaches from all partner universities, including the future full partner University of Münster from Germany.
The second edition of Entre Camp Helsinki empowered students from six European countries, providing them with a unique platform for collaboration, learning, and growth on an international scale. By combining academic excellence, cultural exchange, and entrepreneurial thinking, Ulysseus Entre Camp equips participants with the skills and mindset needed for global success in tomorrow's world. Through this transformative experience, students form lasting connections and emerge as ambassadors of cross-cultural collaboration and innovation.
Entre Camp will continue its journey also in the future – follow the Ulysseus Academic offering page for the next call of students!
About Ulysseus
Ulysseus is one of the 44 European Universities selected by the European Commission to become the universities of the future. Led by the University of Seville together with five other universities in Europe (the University of Genoa, Italy; Université Côte d'Azur, France; the Technical University of Košice, Slovakia; MCI | The Entrepreneurial School®, Austria; and Haaga-Helia University of Applied Sciences, Finland), the project will allow students, researchers and graduates to move freely between universities, carry out internships in companies and start high-impact research projects.