Ulysseus organises its first Research Summit in Nice with the conference « Towards Innovations in Ageing and Well-Being »
The University Côte d'Azur is leading this event which is a global showcase of scientific innovation and collaborative research.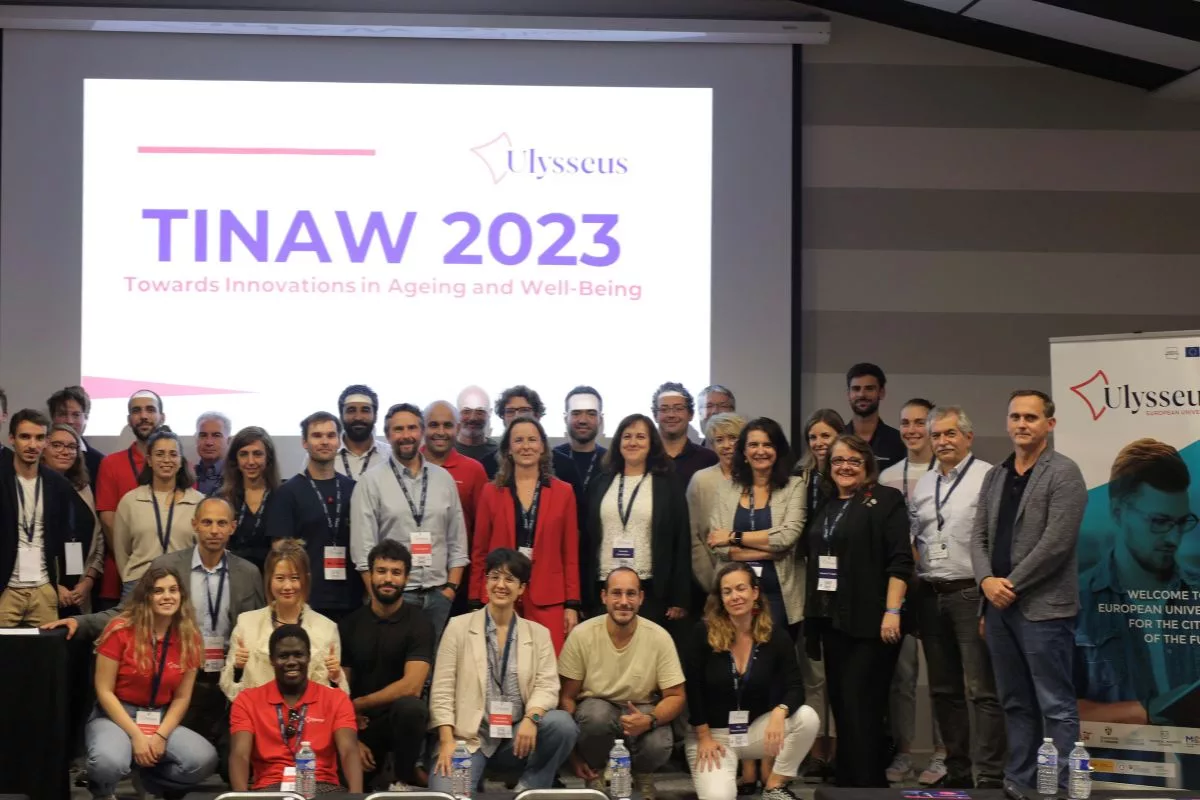 On 18-19 October 2023, in Nice, France, Ulysseus held its first Research Summit: Towards Innovations in Ageing and Well-Being » (TINAW) Conference: A Global Gathering of Experts to Shape the Future of Healthy Ageing, bringing together more than 150 participants from various laboratories of Ulysseus partner institutions and local communities.
This conference was dedicated to advancing knowledge in ageing, well-being, and healthy living while addressing the complex challenges posed by an aging global population.
Collaboration and networking are at the core of Ulysseus. Hence, this first Research Summit served as a platform to create strong links between ageing and well-being research to boost innovation and address this key societal challenge.
Keynote speakers
The conference is divided into four dynamic sessions, each dedicated to specific aspects of ageing and well-being, fostering interdisciplinary discussions and collaboration. In this sense, four esteemed experts presented cutting-edge research and initiatives on various facets of ageing and well-being, including the biology of ageing, adolescent well-being, and the application of machine learning to predict human well-being.
The keynote speakers were:
Prof. Vera Gorbunova (University of Rochester) delved into « Mechanisms of longevity: from naked mole rats to whales »
Dr. Kyung A Cho (Chonnan National University Medical School, Medispan Co.) discussed a « Modified version of flagellin to delay aging and improve healthy aging. »
Dr. Caspar Kaiser (Warwick Business School / University of Oxford) explored « Machine Learning in the Prediction of Human Well-being. »
Dr. José Márquez (University of Manchester) presented « The state-of-the-art research and initiatives in the field of adolescent well-being measurement and promotion. »
Seventeen other presentations from Ulysseus partner universities covered an array of topics related to aging, well-being, and healthy living, further enriching the exchange of ideas.
With more than 150 participants attending from diverse laboratories within Ulysseus partner institutions and local communities, the conference was a milestone in advancing knowledge and action towards healthy ageing. Attendees had the unique opportunity to connect with like-minded professionals, researchers, and practitioners to strengthen the global ageing and well-being research and innovation ecosystem.
About Ulysseus
Ulysseus Alliance vision for 2030 is to develop an excellency-recognized and internationally attractive open to the world, persons-centred and entrepreneurial European University for the citizens of the future. By doing so, our ambition is to contribute to shape the European Higher Education and Research Areas, and hence the future of Europe.
Ulysseus is one of the 50 European Universities selected by the European Commission to become the universities of the future. Led by the University of Seville together with seven other universities in Europe (the University of Genoa, Italy; Université Côte d'Azur, France; the Technical University of Košice, Slovakia; MCI | The Entrepreneurial School®, Austria; Haaga-Helia University of Applied Sciences, Finland; the University of Münster, Germany; and the University of Montenegro, Montenegro), the project will allow students, researchers and graduates to move freely between universities, carry out internships in companies and start high-impact research projects.