Welcome to
Haaga-Helia University of Applied Sciences
Haaga-Helia is a strongly business orientated university of applied sciences in Finland. Through education, research and development, we prepare professionals for business and services. We focus on co-operation, entrepreneurship, innovation and internationality. 
Haaga-Helia operates on five campuses in Helsinki, Porvoo and Vierumäki.
Pasila campus is located in Eastern Pasila, in Helsinki, right next to Pasila railway station, Mall of Tripla and Messukeskus, Finland's biggest congress and exhibition centre. The campus is within easy reach by train, tram or bus. Pasila campus is our biggest campus.
Haaga campus – Haaga Hospitality campus – is located in Helsinki, in the green and pleasant Haaga district.
Malmi campus is located about a five-minute walk from the Malmi railway station. At Malmi campus, you can study full-time in the business degree programme. A majority of the students at Malmi are adult students who study part-time in the business degree programme.
Porvoo campus is located near the idyllic Old Town of Porvoo. Porvoo Campus offers a modern, international and innovative learning environment.
Vierumäki is a unique environment in the middle of nature near the city of Lahti, about a 1,5-hour ride from Helsinki. At Vierumäki campus, we offer studies in sports and wellbeing.
What you need to know about
Haaga-Helia University of Applied Sciences
You will find here information about the documents you will need to prepare ahead of travelling to Finland, the administrative processes to follow before leaving your home country and some recommendations about how to find accommodation in Helsinki, among others.
Here you will find some recommendations to get around Helsinki, arrange a health insurance if needed or register at Haaga-Helia University of Applied Sciences​.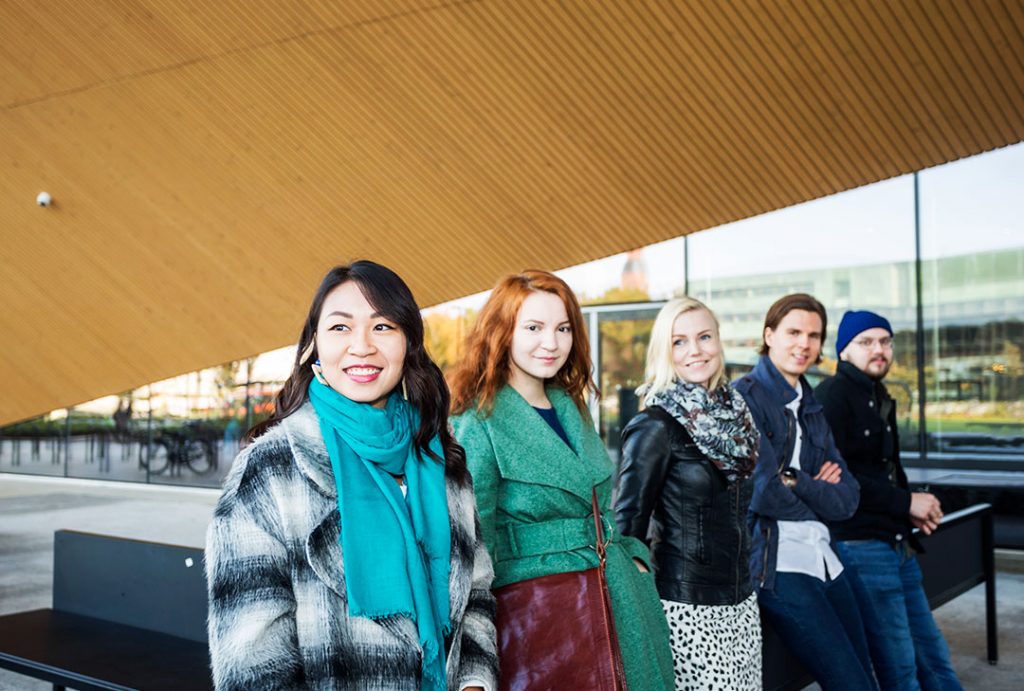 Study at Haaga-Helia University of Applied Sciences
What courses are offered by Haaga-Helia? What facilities are available for students? Are there any extracurricular activities offered which may be of your interest? What options do I have on campus? Find here all the details you need to excel in your studies at Haaga-Helia University of Applied Sciences. 
What are the best things to do in Helsinki? Are there student job options? What student associations can I join? Find out all the details here. 
Find out where to call in case of emergency, how to find pharmacy or learn about the official holidays in Finland. This section is packed with relevant information that may come handy for you.
✈️ PREPARE YOUR DEPARTURE
BUDGET TO PLAN
The monthly budget for living and studying in Finland (including food, accommodation, transport and entertainment) is about €700-1000. It is advisable to budget a larger sum for the first month after your arrival, as there are always essential items which need to be bought in the beginning of your studies.
The minimum monthly budget can be roughly divided as follows:
Rent in student housing (€300–600) or private housing (€500-850)
Food (€200-300)
Transportation (€60)
Other expenses (e.g. study material, also need to be taken into account)
Please note that expenses for study materials are relatively low in Finland, because you can borrow most books from Haaga-Helia's library or from other libraries.
University students are entitled to discounts for various services in Finland. 
ID DOCUMENT REQUIRED
EU Citizens : ID card or Passport
Non-EU Citizens : Passport
LONG STAY VISA
For more information please click here.
INSURANCE
Students coming to Haaga-Helia should obtain all necessary insurances (e.g. health, luggage, home insurance) prior to their arrival in Finland. Students who are not Finnish citizens cannot normally obtain insurance from Finland. Please note that Haaga-Helia does not offer insurance to students.
Non-EU/EEA citizens arriving in Finland for the purpose of study are required to have health insurance if the period of study lasts for more than three months. https://migri.fi/en/insurance.
EU/EEA citizens should obtain the European Health insurance card from their country of residence prior to departure.
In addition to the health insurance/European Health Insurance Card, students are recommended to have private travel insurance, for example covering luggage and travel expenses in case of a cancellation due to illness, and home insurance, if necessary.
BANKS
The policy for opening a bank account depends on the bank. It is advisable to contact the bank beforehand and inquire about the possibility of opening an account and asking what documents are needed. Banks in Finland are open Monday to Friday 9.30-16.15. 
Banks operating in Finland: 
ACCOMMODATION
Exchange students who apply to study in Helsinki (Haaga, Pasila/Malmi campus) can apply for accommodation from HOAS (Foundation for Student Housing in the Helsinki Region). 
Due to the large number of applicants, housing is not guaranteed to all applicants, especially in the autumn semester, but most applicants normally receive housing through HOAS. However, as the housing situation in Helsinki is very challenging, students are strongly recommended to apply and accept accommodation offered by HOAS as finding affordable furnished accommodation from the private market in Helsinki can be very challenging.
Students coming to study at the Porvoo Campus will automatically be offered housing and do not need to fill in a separate accommodation application
RIDE TO CAMPUS
Pasila Campus is super easy to reach : every single train in Finland stops in Pasila Station which is right next door to the campus ! The journey from Helsinki Airport to Pasila takes about 25 minutes, and from the City Centre only 5 minutes. Other campuses are also easy to reach with public transport.
🏠 SETTLE DOWN IN HELSINKI
🎓 STUDY AT HAAGA-HELIA
❄️ LIVE IN HELSINKI
ℹ️ ADDITIONAL INFORMATION