16 Ulysseus students formulate recommendations to the European Commission during the EUA in Strasbourg
The event was held in Strasbourg on the 3rd and the 4th of March, 2022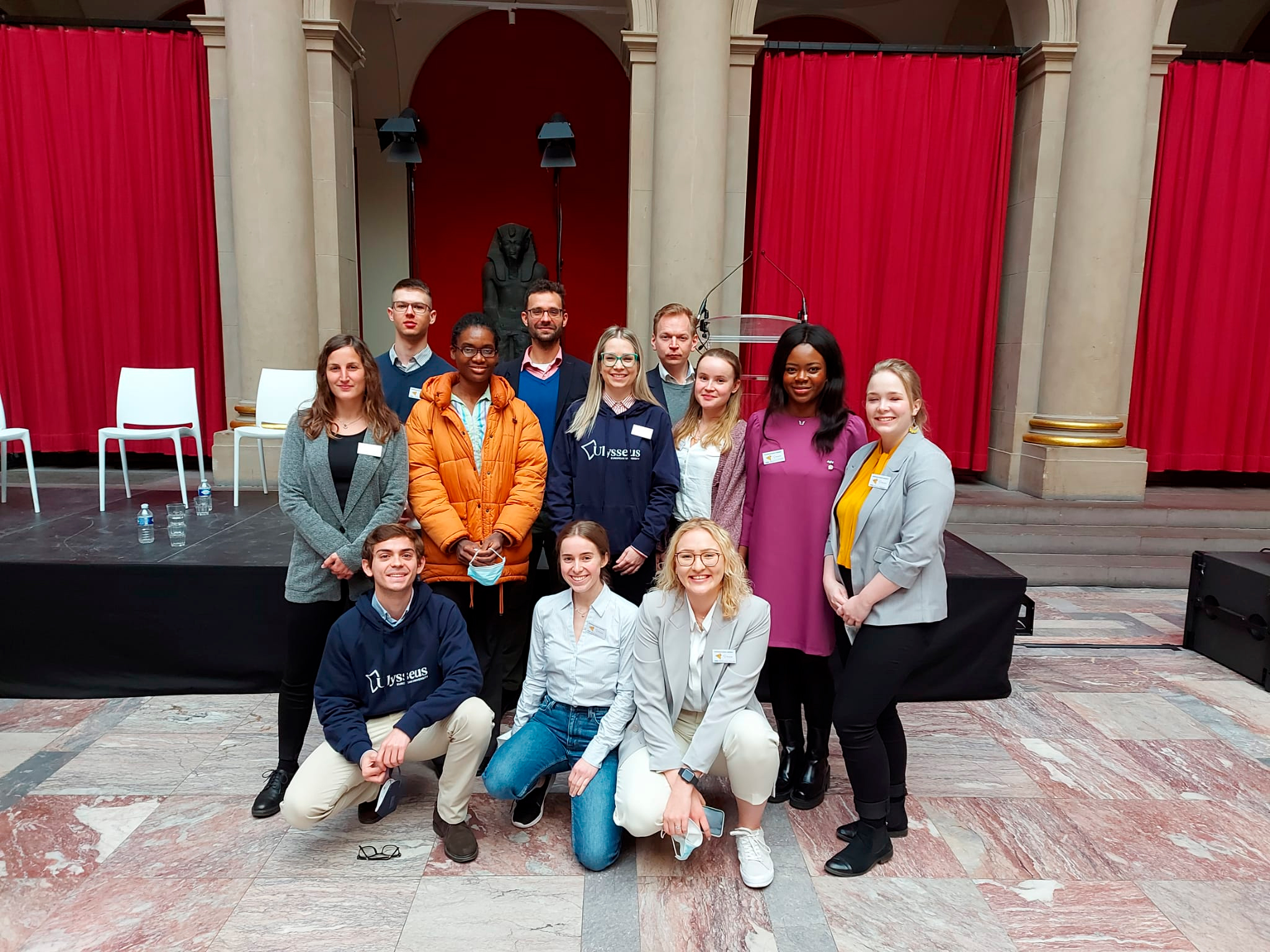 The Inaugural Session of the European Student Assembly took place from the 3rd to the 4th of March, 2022, in Strasbourg, (France). Sixteen Ulysseus students participated in the event among 275 students from 38 European alliances, who met to discuss European issues and to formulate recommendations to the European Commission. The participants were chosen among more than 800 eligible applications, 65 of which were submitted by Ulysseus European University students.
The event was hosted by the University of Strasbourg and co-organised by Grenoble-Alpes University, Sciences Po and CY Cergy Paris University under their respective European University Alliances EPICUR, Unite!, CIVICA and EUTOPIA.
Students were given the chance to discuss key topics for the future of Europe within ten thematic panels, each one dedicated to discussing a burning issue for the future. The panels were supported upstream by experts in order to enable participants to prepare specific, documented and targeted recommendations. These recommendations will then be presented before the European Commission so that they can be taken into account within the framework of the Conference on the Future of Europe.
Some of the topics under discussion included European common values, cyber-attacks, the pandemic and the need of a European Health Union, sustainability, an economic model for the EU, democracy, digital regulation, climate refugees or the future of the higher education system, among others.
Ulysseus students
The EUC chose 16 students from the six partner universities of the Ulysseus alliance: 3 from the University of Seville in Spain, 4 from the MCI | The Entrepreneurial School® in Austria, 3 from Université Côte d'Azur in France, 3 from Haaga-Helia University of Applied Sciences in Finland, 2 from the Technical University of Košice in Slovakia and one from the University of Genoa in Italy.
Ulysseus students' ideas and wishes about the future of Europe and European Universities were collected in a co-creation session during an Open Event held in Seville in December, 2021. A position paper was developed in order to feed the Manifesto that is currently under preparation by the European Student Community and which will be brought out within the Conference on the Future of Europe.
The European Student Community —which has been working this week in the European Student Assembly in Strasbourg— is a grassroots project initiated by students from European Universities aiming to be the voice of European students in the Conference.
The position paper drafted by Ulysseus students is available here.
About Ulysseus
Ulysseus is one of the 41 European Universities selected by the European Commission to become the universities of the future. Led by the University of Seville together with five other universities in Europe (the University of Genoa, Italy; Université Côte d'Azur, France; the Technical University of Košice, Slovakia; MCI | The Entrepreneurial School®, Austria; and Haaga-Helia University of Applied Sciences, Finland), the project will allow students, researchers and graduates to move freely between universities, carry out internships in companies and start high-impact research projects.