ULYSSEUS COMPASS RESEARCHERS' DAYS IN HELSINKI


ARTIFICIAL INTELLIGENCE
Haaga-Helia University of Applied Sciences
Helsinki, 21-22 September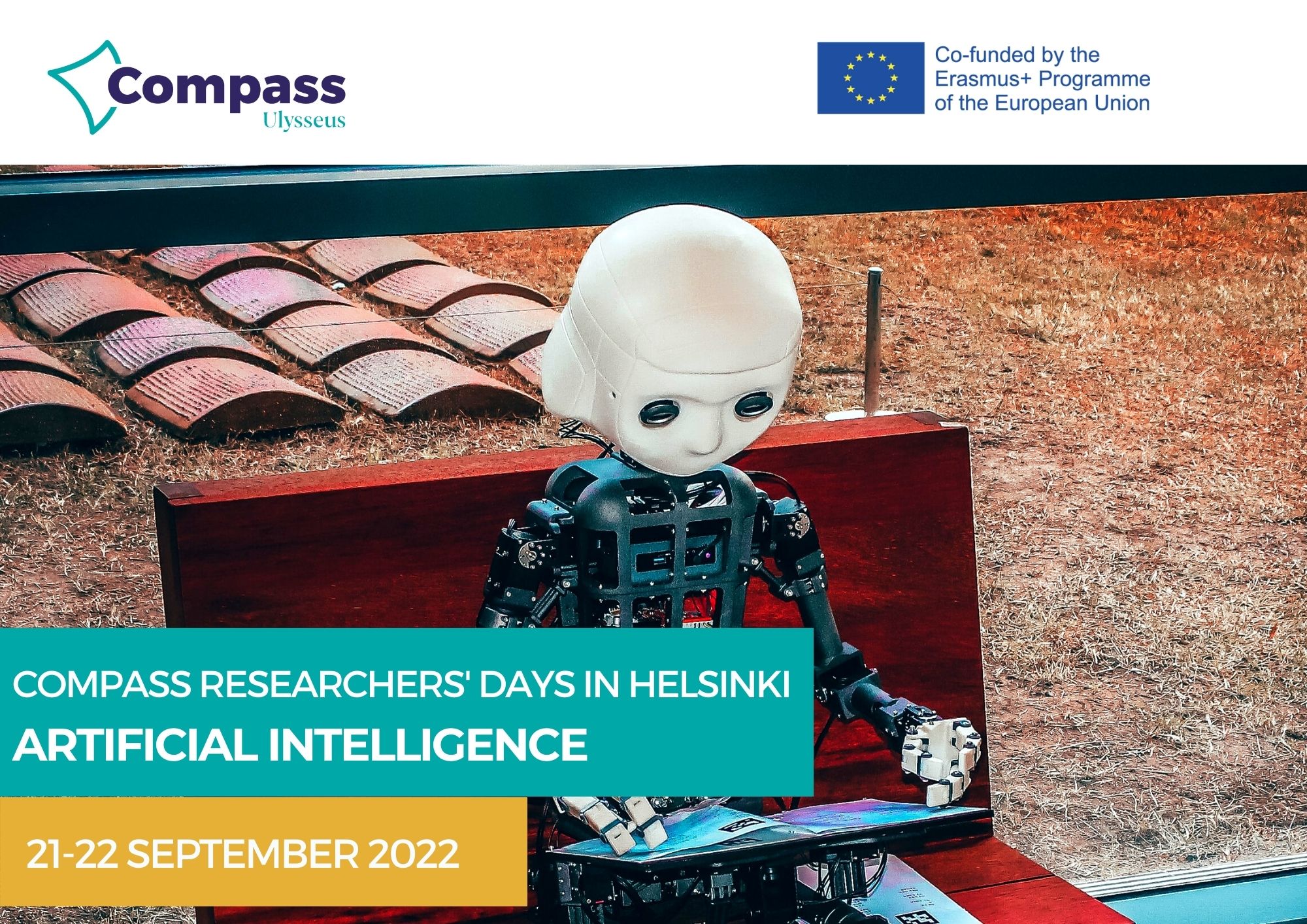 Target Audience: Researchers
The ULYSSEUS EUROPEAN UNIVERSITY COMPASS RESEARCHERS' DAYS IN HELSINKI is organised by Haaga-Helia University of Applied Sciences and offers an opportunity for researchers of the Ulysseus' partner universities:
University of Seville (Spain)
University of Genoa in (Italy)
Université Côte d'Azur (France)
Technical University of Košice (Slovakia)
MCI | The Entrepreneurial School® (Austria)
Haaga-Helia University of Applied Sciences (Finland)
to engage with peers establishing new collaborations and consolidating consortiums, to seize opportunities to develop joint European projects, scientific workshops, seminars, congresses, courses and mobilities.
Before the event we would like for participants to familiarise themselves with the following Horizon Europe calls.
We will base our meeting activities on the topics and scope of these calls with the goal of identifying synergies between participants and advancing the collaboration between Ulysseus AI experts.
Are you interested?
TENTATIVE PROGRAMME
Wednesday – 21 September
09.00 – 09.30 Open speech – Key EU policy expert on AI – TBD
09.30 – 10.00 Strategical view of AI – speaker TBD
10.30 – 11.00 Introductions and getting to know each other
Coffee
11.30 – 12.30 Presentations of selected AI projects (HH, and other partners best projects from HE)
12:30 – 14:00 Joint lunch for everyone (joint session ends at lunch)
14:00 – 16:30 Co-creating HE application concepts (selected HE calls)
16:30 – 17:00 Wrap up
Thursday – 22 September
9.00 – 12.00 Horizontal work in different groups and different spaces. This will be a workshop to facilitate the sharing of ideas on a number of HE upcoming call topics.
12:00 – 13:00 Lunch
13.00 – 14.30 Presentation of results from the workshop and future collaboration possibilities
15.00 – 17.00 Company visit
Please email William O´Gorman (william.o.gorman@haaga-helia.fi) , Officer at the Innovation Hub of Artificial Intelligence, Haaga-Helia University of Applied Sciences 
COMPASS has received funding from the European Union's Horizon 2020 Research and Innovation programme under grant agreement No 101035809