On 27 April, representatives of Ulysseus partner universities attended a COMPASS forum at the Technical University of Košice in Slovakia.
At this occasion, members of the different workgroups discussed a broad range of topics including the status of the Ulysseus Research and Innovation agenda and strategy, digital innovation, Gender Agenda, Open Science resources, and a proposal to transform Ulysseus Innovation hubs in European Research Area Hubs, among others.
Research and Innovation Strategy
The University of Seville presented at this forum the work done for the past few months towards the development of Ulysseus Research & Innovation Strategy.
During the past few months, work has been done to identifying the capabilities, synergies, and barriers through an information collection exercise. This includes a survey, interviews, and a strengths, weaknesses, opportunities, and threats (SWOT) analysis. A range of issues have been highlighted, from the development and implementation of research and innovation (R&I) strategies to the different specialisations and the hopes and needs for Ulysseus.
The broad objective of Ulysseus is to develop an innovation ecosystem that finds solutions to the key issues of businesses and society through a trans-disciplinary approach. The focus of this approach to R&I within Ulysseus are the Innovation Hubs, while the broad thematic areas for each hub has been determined they need to take advantage of the full range of capabilities at the different alliance partners.
Gender Agenda for Transforming Universities
Ulysseus R&I Gender Agenda was a key topic under discussion during the forum. The University of Genoa, leader of the Responsible Research and Innovation workpackage within COMPASS, is currently leading the world for developing the Ulysseus Gender Agenda for Transforming Universities Guide. This document will establish best practices to include the R&I Gender Agenda in higher education including compulsory gender screening for Ulysseus calls and proposals, gender equality plans, processes for gender issues and the use of inclusive language and inclusive visual materials in any scientific project, among others.
Both Ulysseus Gender Agenda for Transforming Universities Guide and Ulysseus R&I strategy will be published in June 2022, marking the first year of life of the project "COMPASS: Leading Ulysseus to become a European University excellence model through Research and Innovation".
Towards transforming Ulysseus Innovation Hubs in Era Hubs
The Technical University of Košice and Université Côte d'Azur jointly gave an overview on the work done for exploring and overcoming barriers to transform Ulysseus Innovation Hubs to be accredited as ERA Hubs. This included assessing the viability of ERA Hubs in different innovation ecosystems; ensuring interoperability at the local, regional, national and international level; increasing the accessibility to the hubs through a seamless open system and developing the tools to help others repeat our concept.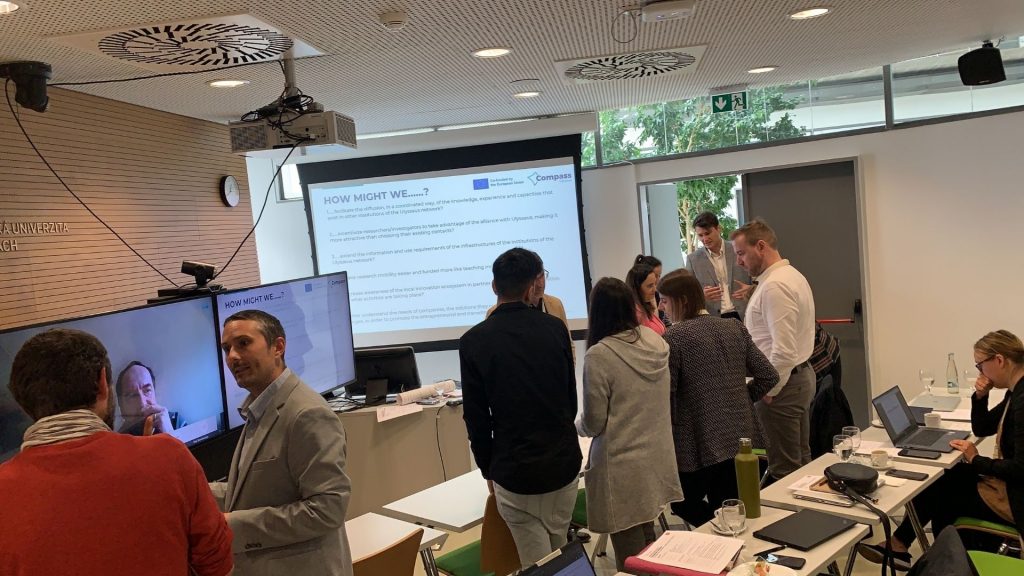 ABOUT COMPASS
COMPASS: Leading Ulysseus to become a European University excellence model through Research and Innovation is a Horizon 2020 project and the flagship for Ulysseus R&I agenda and strategy. This action, which is part of the Science with and for Society programme of Horizon 2020 (SwafS), will facilitate Ulysseus' transformation process towards becoming a European university through a common R&I strategy that will in turn consolidate its Innovation Ecosystem.